Hoy aprenderás las preguntas más comunes que se hacen en una entrevista de trabajo. También verás algunos consejos e ideas para responderlas en español.
⭕️Primero, vamos a aprender algo de vocabulario
para encontrar un trabajo
: 
Para buscar trabajo, puedes consultar las listas de trabajos en el periódico o en Internet aunque también es posible que un reclutador o un cazatalentos se ponga en contacto contigo, es decir, una persona que ayuda a encontrar empleados potenciales para las empresas.
Cuando encuentres un anuncio del trabajo para el que deseas presentarte, debes preparar tu currículum vitae o CV; ya sabes que en este documento debes hablar sobre tu educación, experiencia laboral y habilidades.
Una vez redactado, ya puedes enviar tu currículum vitae o CV a la empresa con una carta de presentación; se trata de una carta o correo electrónico en la que te presentas y explicas por qué deseas el trabajo.
Si a la empresa le gusta tu currículum y tu carta de presentación, es posible que te llamen para una entrevista. Después de esta entrevista, si la empresa quiere contratarte, te ofrecerá el trabajo. 
Tú puedes aceptar el trabajo (decir que sí) o rechazarlo (decir que no).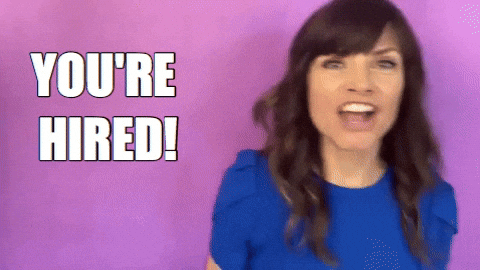 ⭕️Ahora vamos a aprender algunas expresiones que debes saber cuando vas a hacer una entrevista de trabajo:
*Recuerda que aquí el entrevistador va a utilizar el pronombre personal USTED, en algunas ocasiones, el entrevistador te puede preguntar: ¿Puedo tutearte?, en ese caso tú tomarás la decisión, le dirás: "Sí, por favor, tutéeme".
1.- Inicio de conversación:
Cuando llegues al lugar de la entrevista, es posible que primero debas interactuar con la recepcionista de la empresa.
Saluda siempre diciendo: "Buenos días o Buenas tardes" y luego dile el motivo de su visita:
"Estoy aquí porque tengo una entrevista a las [hora] con el Señor/a [nombre]" – I´m here for an interview at [time] with Mr/s…
"Tengo una cita con la Sra. Sáez a las 3:15" – I have an appointment with Mr/s. … 
FRASES COMUNES QUE DEBES APRENDER:
"¡Encantado de conocerte!"  – Pleased to meet you
"¡Un placer para mí también!"  – Nice to meet you, too!
"¿Cómo está/s?"  – How are you doing?
"Bien, me alegro de estar aquí" – Good I´m glad to be here
"¿Tuviste algún problema para encontrarnos?" – Did you have any trouble to find us? 
"No, en absoluto." / "Fue un poco difícil, pero todo bien" – No, not at all
"¿Quiere(s) un café?" / "¿Quiere(s) un vaso de agua?" – Would you like a coffee/ glass of water?
"Sí, por favor." / "No, gracias." / "Un café, por favor" 
"Por favor, siéntese" – Please have a seat.
2.- Preguntas sobre ti:
Una pregunta común para comenzar una entrevista es: "Háblame un poco sobre ti". 
Puedes responder así:
"Estudié en la Universidad de … "     –  I studied …
"Me especialicé en …"      –  I majored in …
"Tengo un título de …"     –  I have a certificate in …
"Tengo una licenciatura en …"    –  I have a Bachelor's Degree
 "Tengo una diplomatura en …"   –  I have a degree in …
"Tengo un doctorado"    –  I have a Ph.D
"He trabajado para (nombre de la compañía) durante (número) años."    – I have worked for… 
"Actualmente hago …"   – Currently I do…
"Tengo mucha experiencia en…"    – I have a lot of experience in…
"Estoy muy interesado/a en …"   – I am very interesting in …
3.- Responsabilidades de tu anterior o actual trabajo, puedes responder así:
"Estaba a cargo de …"   – I was in charge of…
"Fui responsable del departamento de …"   – I was responsible for …
"Mi trabajo diario implicaba … "  – My day-to-day work involved…
"I worked with…"   – Trabajé con…
En las entrevistas de trabajo, también es común hacer preguntas sobre experiencias pasadas, por ejemplo:
"Cuéntame sobre uno de tus mayores logros"   – Tell me about one of your biggest accomplishments.
"Cuénteme acerca de un problema al que te  enfrentaste y cómo lo manejaste"  – Tell me about a problem you faced, and how you handle it.
El entrevistador puede preguntar:
"¿Por qué quieres este trabajo?"  – Why do you want this job?
"¿Por qué está interesado en esta posición?"   – Why are you interested in this position?
"¿Por qué quiere trabajar para esta empresa?"  – Why do you want to work for this company?
Puedes responder así:
"Porque me encantaría utilizar mis habilidades …"  – I´d love to use my skills… 
"Porque realmente disfruto ayudando a mejorar …"   – I really enjoy helping improve…
"También tengo una verdadera pasión por …"   – I also have a real passion for…
4.- Es posible que te pregunten también por tus fortalezas y debilidades:
a)Posibles respuestas para fortalezas:
"Tengo grandes dotes de comunicación"   – I have great communication skills
"Soy una persona sociable"   – I am a people person
"Aprendo rápido"   – I am a quick learner
"Soy un gran trabajador"   – I am a hard worker
"Soy organizado y puntual"   – I am organized and punctual
"Soy creativo y con visión de futuro"   – I am creative 
"Tomo la iniciativa. / Soy proactivo"   – I take the initiative / I am proactive
b) Para hablar de tus debilidades, di tu punto débil y también di algo que estás haciendo para mejorarlo. A continuación se muestran tres ejemplos:
"Necesito organizarme un poco mejor. Estoy trabajando con un nuevo sistema de gestión del tiempo para ayudarme a realizar un seguimiento de varios proyectos y cumplir con todos los plazos ".
"Trabajo de manera muy independiente y no siempre busco comentarios de los demás. Sin embargo, en mi último trabajo me uní a algunos proyectos grupales, y esto realmente me ayudó a aprender a trabajar en equipo ".
"Me di cuenta de que tiendo a impacientarme con los colegas que no trabajan tan rápido como yo, así que ahora estoy haciendo un esfuerzo consciente para alentar y motivar a los compañeros de trabajo de una manera positiva".
5.- Otra pregunta muy común es: ¿Por qué has dejado o vas a dejar tu trabajo?
No te quejes de tu trabajo o jefe anterior, porque te hace parecer negativo. En cambio, es bueno enfatizar las cosas positivas que espera obtener al cambiar de trabajo. Aquí hay algunas formas diplomáticas de responder:
"Me gustaría llevar mi carrera en una nueva dirección"   – I´d like to take my career in a new direction…
"Porque estoy buscando un puesto en el que pueda crecer"   – I´m looking for a position where I can grow…
"Ahora estoy buscando nuevos desafíos y oportunidades"   – Now, I am looking for new challenges and opportunities.
6.- ¿Dónde te ves dentro de 5 años?
"Durante los próximos cinco años, quiero seguir desarrollando mis habilidades para convertirme en un experto en mi trabajo"    – Over the next five years, I want to continue developing my skills so that I can become an expert in my job.
"Espero ganar más experiencia y, si es posible, asumir un rol de gerencia"   – I hope to gain more experience and move into a management role if possible.
"Me apasiona mucho este trabajo y me imagino haciéndolo durante mucho tiempo"   – I am really passionate about this work and I could see myself doing it for a long time.
7.- Al final de la entrevista, el entrevistador podría preguntar: 
"¿Tiene alguna pregunta para mí?"    – Do you have any questions for me?
"¿Cuál es el siguiente paso?"   – What´s the next step?
" Nos pondremos en contacto con usted a través de su correo electrónico" 
Aquí tienes más recursos e ideas para aprender a responder preguntas para una entrevista de trabajo:
Posibles preguntas en una entrevista de trabajo

Espero que esta entrada te ayude mucho. 
¡Hasta pronto!
Teresa